Replacement parts are now available! View them here.
INTRODUCING THE KURT DX6™ CrossOver™ Vise
The evolutionary DX6™ CrossOver™ Vise combines all the great features of the world-renowned KURT D688 and 3600V vises, along with new state-of-the-art work holding features. This 6" Kurt vise achieves new levels in precision and performance where flatness and parallelism are important, and it's a better vise than our own D688 in every way we measure a vise. With KURT'S MADE IN AMERICA commitment, this Kurt milling machine vise is destined to become the go-to-vise or today's machining applications.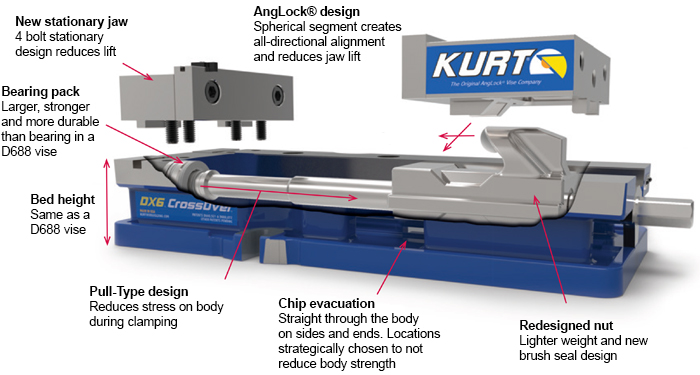 Product Specifications
| | |
| --- | --- |
| Jaw Width (Inch) | 6" |
| Jaw Opening Capacity (Inch) | 9" |
| Throat Depth (Inch) | 1" |
| Number of Stations | 1 |
| Jaw Height (Decimal Inch) | 1.735" |
| Base Length (Decimal Inch) | 18.258" |
| Jaw Material | Steel |
| Base Width (Inch) | 7" |
| Vise Material | Ductile Iron |
| Base Height (Inch) | 2-7/8" |
| Maximum Clamping Force (Ft/Lb) | 7342 |
| Maximum Clamping Force (psi) | 80 |
| Overall Height (Inch) | 4" |
Kurt DX6 Vise Dimensions
| | |
| --- | --- |
| AA (Inch) | 9.08" |
| BB (Inch) | 12.117" |
| CC (Inch) | 13.805" |
| DD (Inch) | 16.842" |
| | |
| --- | --- |
| A (Inch) | 2.875" |
| C (Inch) | 16.810" |
| D (Inch) | 2.837" |
| E (Inch) | 0.656" |
| F (Inch) | 1.485" |
| G (Inch) | 2.312" |
| H (Inch) | 1.735" |
| HH (Inch) | 1.448" |
| J (Inch) | 0.725" |
| K (Inch) | 4.000" |
| L (Inch) | 2.295" |
| | |
| --- | --- |
| M (Inch) | 0.328" |
| MM (mm) | 25mm |
| Q (Inch) | 2.00" |
| R (Inch) | 2.986" |
| S (mm) | 80mm |
| T (mm) | 200mm |
| U (mm) | 100mm |
| V (Inch) | 10.000" |
| W (Inch) | 4.000" |
| X (mm) | 16mm |
| Y (Inch) | 0.625" |
| Z (Inch) | 0.992" |
| | |
| --- | --- |
| B (Inch) | 6.000" |
| I (Inch) | 7.391" |
| N (Inch) | 0.940" |
| O (Inch) | 3.875" |
| P (Inch) | 1/2"-13 |
atc-product:
/61-421-016-kurt-sidewinder-vise-for-6-vise/
atc-product:
/kurt-dx6-vise-with-accessories-set-b/
atc-product:
/techniks-tp-c40-43pc-cat40-tooling-package-with-holders-collets/
atc-product:
/kurt-th6-vise-torque-handle/
Ships:
Same Business Day if Ordered by 12:30PM PT